With more than a decade operating in the online advertising business, PopCash is one of the most used self-served platforms in the industry. Providing worldwide inventory, advanced targeting options and a robust API – PopCash is amongst the first traffic networks to welcome automation.
Using API integration to TheOptimizer, PopCash advertisers are now able to automate their campaigns optimization process in just a few minutes.
In this article we will go through an easy step-by-step guide on how to connect your PopCash account and Voluum tracker to TheOptimizer Mobile.
Accessing your PopCash account API information
To get your PopCash advertiser account API key, you simply need to send an email at [email protected] requesting your account API information.
In order to avoid any possible delays in the process, please make sure to send the request from the e-mail account associated with your Popcash account.
Accessing your tracking platform API information
To access your Voluum tracker API information, you need to go to your Account Settings > Security then click Add new key. In the new key generation screen enter a friendly name to easily identify your access keys (in case you are using multiple) and your account password.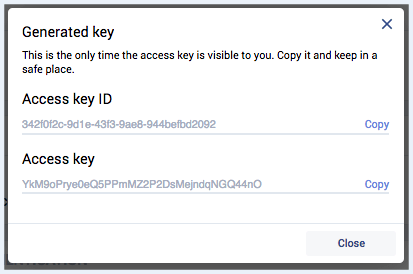 Copy the generated keys in a text file so that you can quickly access them when requested in the account wizard process.
Connecting to TheOptimizer Mobile – Account Wizard
During this step, you will be asked to enter the API information of your Popcash and Voluum account mentioned above.
After successfully creating your account at TheOptimizer Mobile, go to Account Wizard found on the left menu and click Add New to enter your PopCash account information.
– Traffic Source: Select PopCash from the supported traffic sources list.
– Nickname: Enter a nickname for your account so that it can be easier for you to identify it later.
– API Key: Enter the API Key provided from PopCash support through e-mail.
Click Next in the bottom right corner of your screen to continue adding your tracker (Voluum).
In this 2nd step of the account wizard, click Add New to enter your tracker information:
– Select Voluum from the tracking platforms list.
– Enter a Nickname for your tracker so that you can easily identify it later (in case you connect multiple tracker accounts)
– Enter the Access Key ID and Access key of your voluum tracker.
In the 3rd and final step of the account wizard, simply select the connected PopCash account from your trackers traffic sources list and click finish.
Once finished adding you traffic source and tracker account, it is time to create some auto-optimization rules so that you won't waste precious budget on poor quality publishers.
Creating your First Rule
To create an auto-optimization rule, just go to Rules on the left-side menu on your Optimizer account and click Add New. In this example we will go through a publisher blocking rule.
We want TheOptimizer to check every 10 minutes on our demo campaign if there are publishers that have sent more than 300 visits to our campaign link and have generated 0 landing page clicks and revenue during the last 14 days. In case these conditions are met, TheOptimizer will automatically block these publishers. (example below)
Also, every time our rule will block one or more publishers, we want TheOptimizer to send us an email notification with the details of the Publisher block rule.
For more information on rules check these knowledge base articles at TheOptimizer.io
– Rules Explained
– Creating Rule
– Ready to Use Rule Examples
Without a doubt, we've reserved a special deal for all PopCash users: Free 30 Days Trial (no credit card needed).